Contact Us
Pregis extends its range of Renew sustainable air cushions with minimum 30% Post Consumer Recycled material
Pregis, a leading global manufacturer of protective packaging, is extending its range of sustainable air cushion films. The new films with a minimum of 30 percent post-consumer recycled (PCR) content include Double cushion and Quilt large patterns which function as void fill, block/brace and top/bottom pads to protect shipments. The films are on demand inflated on the next generation MINI PAK'R V3 air cushioning unit.  
Embracing Circularity
We share the concern of consumers and governments about the environmental impact of packaging.
"At Pregis, we believe that circularity is key to building sustainability into every part of the supply chain. The Renew films are produced with minimal 30% recycled plastic waste from consumers and retail outlets like bags and wrappings. The waste used in the new Double Cushion and Quilt large air cushions has been sorted by colour. This enables us to produce a transparent film." said Lisanne Bock, product manager, Air Systems, Pregis Europe.
There are many ways how to recycle plastic and reuse it in the production of new products. At Pregis we choose to maximise the content of Post Consumer Recycled plastic which is true waste. Post-consumer waste has completed its life cycle as a retail or consumer item, like bags and other plastic packaging. And using Post Consumer recycled waste generates less CO2 emission than using Post Industrial recycled waste or virgin resources. Like all our cushions, the new films are 100% recyclable.
In the UK a new tax on plastic packaging containing less than 30% of recycled plastic, will be introduced in April 2022. The Renew films are exempt from tax as they fall within these guidelines. But as Pregis, we will not stop there. These films complement our aircushion film with a minimum of 50 percent post-consumer recycled (PCR) content and we will achieve 100 percent recycled content within this year.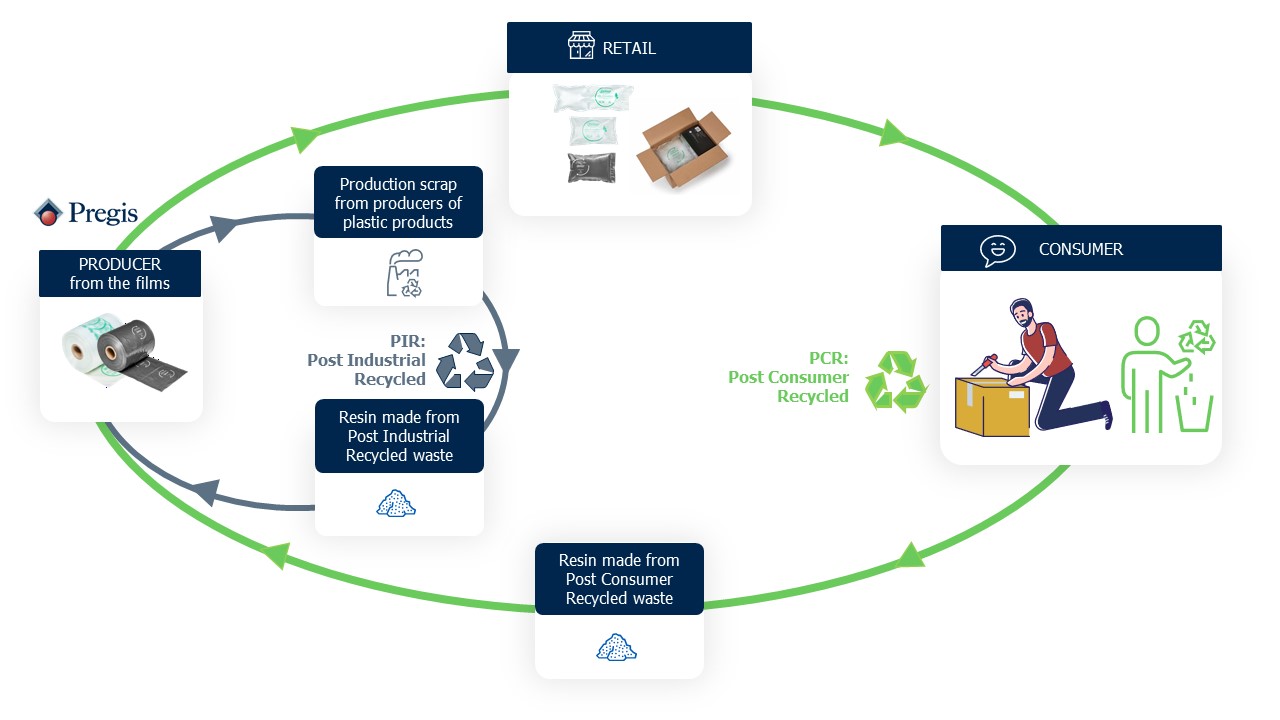 Simplified info-graphic explaining the difference between Post Consumer and Post Industrial Recycled material.
Guaranteed and validated with EuCertPlast certification
The supplier of the Post Consumer Recycled content in the Renew aircushion is EuCertPlast certified (European Certification of Plastics Recycling). With the EuCertPlast certification, you receive the assurance that the post-consumer plastics processed in our suppliers plant are treated according to best practices and with respect towards the environment. The EuCertPlast scheme focuses on traceability of plastic materials throughout the entire recycling process and supply chain and on the quality of recycled content in the end-product.