Contact Us
Driving the Automotive Industry Forward through Protective Packaging Solutions
Approximately 272 million vehicles call the U.S. home. According to The Wall Street Journal, in 2018 alone, an estimated 17.3 million new cars were sold domestically. On a global scale, $7 billion is spent annually on automotive-related packaging – 30% of which falls within protective packaging.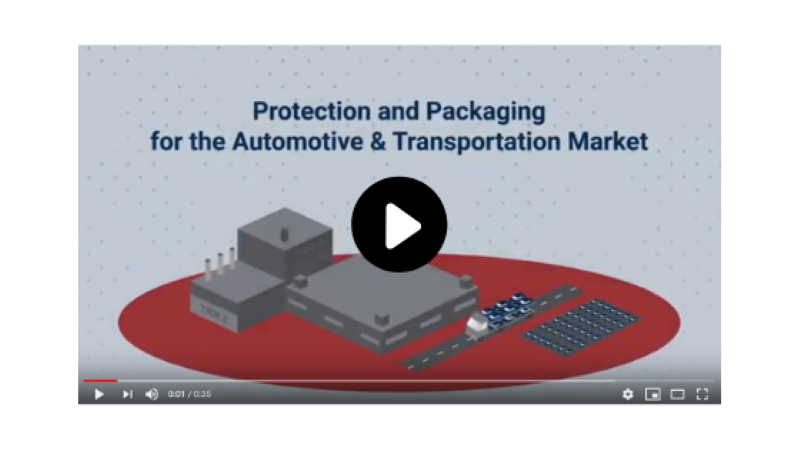 The automotive industry is undoubtedly an undeniable juggernaut that continues to touch the lives of the vast majority of consumers around the world. For many, a vehicle is as necessary as brushing one's teeth or dare we say eating breakfast, lunch or dinner. And as the automotive world continues to accelerate, that success will unsurprisingly come with a myriad of evolutionary challenges and change. But as we all know, challenges inherently fuel humanity to work harder, and smarter. So the future is all but bleak, and instead, full of endless opportunities to create solutions that drive us ahead.
With a $2.1 billion industry demand for protective packaging, Pregis is poised to supply stakeholders with protective automotive solutions that raise their bottom line and keep their eyes on the road to developing better, safer transportation.
Looking at the current and future state of automotive, we are being met with key implications that beg for an array of unique protective packaging applications:
Automobiles are Growing Up
14 million vehicles on the road today are over 25 years old – compared to 8 million in 2002. That's a significant change. In 2018, the average age of a car was 11.7 years old, and in the next five years, the Auto Care Association's 2018 Report projects a 12% rise in vehicles that are 12 years or older. Aging vehicles could very well increase the need for additional OEM and aftermarket replacement parts, leading to a demand for versatile protective products such as cushioning and temporary films. These solutions are imperative in defending against shock/vibration damage, and abrasion/marring.
Consumer Needs and Taste Evolve
Automotive consumer demands are changing rapidly. Crossovers and light-duty trucks sit atop the sales leaderboard – increasing the need for larger parts, and ultimately more complex packaging. Customizable block & brace solutions are key to ensuring these sizable components are protected through assembly lines and transit.
The Future is Now
Technology is becoming more advanced every day. As a result, our automotive parts are more expensive and technical, ultimately driving up the cost for replacement. Rear-view cameras, panoramic sunroofs, heated mirrors, and large digital touchscreens are high-value items that continue to grow in popularity. As such, we need smarter, more robust packaging. Hybrid cushioning and loosefill products are just a few of the solutions that fit the bill. With a wide spectrum of redeemable properties, they can protect against anything from a simple scratch, to complex chemical instability and thermal extremes.
To learn more about Pregis' full line of automotive protective packaging solutions, visit automotive--transportation.